About giftswithlove.co.uk
Born out of a French Foundation
Our origin is a family business established since 1947 by my father Jacques Jules Clemant Dussart a French Watchmaker. I took over the company when my father retired. Working with my husband we started a trophy website www.trophycentre.com and then I started selling gifts on eBay and later developed this our www.giftswithlove.co.uk website.
Micheline Dussart
We pride ourselves on our quality of gifts suitable for all occasions.
Even moreso is the pride we take in engraving your gift to make sure you will be extremely delighted with the finished product.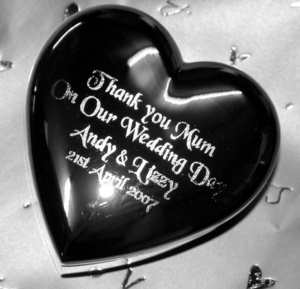 Need more than one of a particular item? Just contact us and we will be pleased to arrange this for you.

Need some help in how to set out your text requirements then please contact us.

With 30 years of engraving experience we feel sure you will be thrilled with your gift when you receive it.
To discuss your requirements you can either send us a message, email us at
sales@giftswithlove.co.uk
or contact us on
01325 380152
We cater for gifts for all occasions. If you can find what you are looking for please call us, we may be able to help.